Welcome to www.SumnerPointMarina.com
Beach Cottages at Sumner Point Marina
umner Point Marina is a small boutique marina/resort with about 20 slips, fuel, electricity, water & wireless internet.
Stay in these four colorful little beachfront cottages with A/C & microwave.
Out of the Blue Restaurant serving Bahamian cuisine in a funky decor of coral carvings and a hidden mermaid!
Bahamas Fishing Vacations!
At SumnerPointMarina.com you will find every thing you will need to know about creating your fishing & diving vacation in Rum Cay located in the south-east Bahamas. We will get you there, accommodate you and show you the time of your life! Rum Cay is a beautiful secluded island with only 80 permanent residents allowing you to see the real Bahamian culture only experienced in these Out Islands. On Rum you wil find deserted sandy beaches, pristine coral reefs, and some of the best fishing and diving in the world. You will find world class blue marlin, tuna, and wahoo. If you are interested in sportfish charter please book early as this is a very small island with limited fishing options. The most convenient way to get to Rum Cay will be a bahamas charter flight from Fort Lauderdale. Read on to find out more and check out the links provided for information on visiting this wonderful island paradise.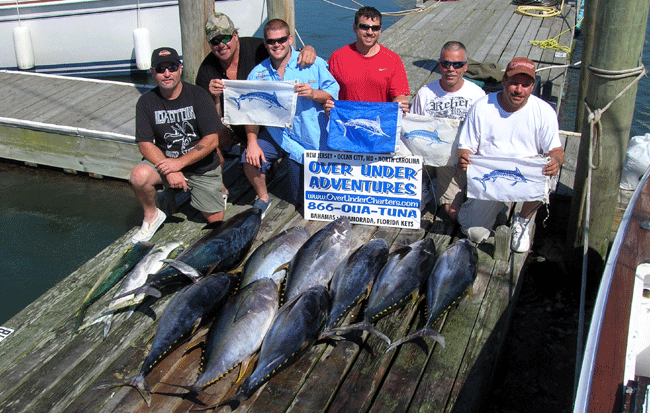 Fishing on Rum Cay
Rum Cay offers World Class Bahamas Sport Fishing home of the most productive waters in the world. Chartering a boat in Rum Cay can reward you with that once in a lifetime fish. For more information about Bahamas Fish Charters contact us at Over Under Adventures Or call toll free at 1-866-OUA-TUNA (1-866-862-6682)
Blue Marlin
Bahamas Blue Marlin Fishing is some of the best in the world. Rum Cay offers some of the best Bahamas Blue Marlin Fishing around. The South East Point is a red hot place to target Blue Marlin in June, July and August
Bahamas Spearfishing
Spearfishing at Rum Cay is about as good as it gets. Giant Lobsters, Grouper, Mutton Snapper! Rum Cay offers the Bahamas Spearfisherman the opportunity to dive the entire Island. No matter which way the wind happens to be blowing, there is a leeward side to Dive in this Bahamas Paradise. Reef is EVERYWHERE. Rum Cay is arguably one of the best Spearfishing Destinations in the World.

With a ton of reefs surrounding Rum Cay there are a lot of spearfishing opportunities. And Rum Cay has a few guys who have been doing it all their lives. Billy Gaitor and Dee Dee know all the great spots to find lobster, conch, grouper and snappers. Dee Dee will gladly take your catch and turn it into a conch/lobster salad and his mom makes awesome island pizza with lobster & conch.

Call Over Under Adventures - 866 862-8862 to arrange your guided spearfishing trip to the Bahamas!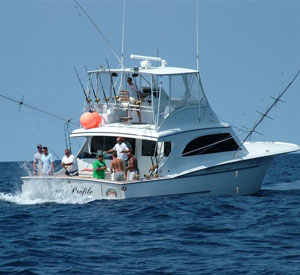 Bahamas Surfing
The "Guardians of the Rum Cay Surf" will kill us if we spilled the beans on this one so shhhhhh....keep it quiet, but Rum Cay has some great surf breaks. Check it out in the winter, just after a cold front passes through. You won't find anyone on the island who will guide you to the right spot so that will be part of the fun....discovering it yourself! And most likely you'll find that you'll be surfing by yourself too! That's all we can say about that..... For Your Bahamas Surfing Vacation, Give Over Under a call at 866 OUA TUNA. Charter their boat and get right to the best surf breaks in the Bahamas!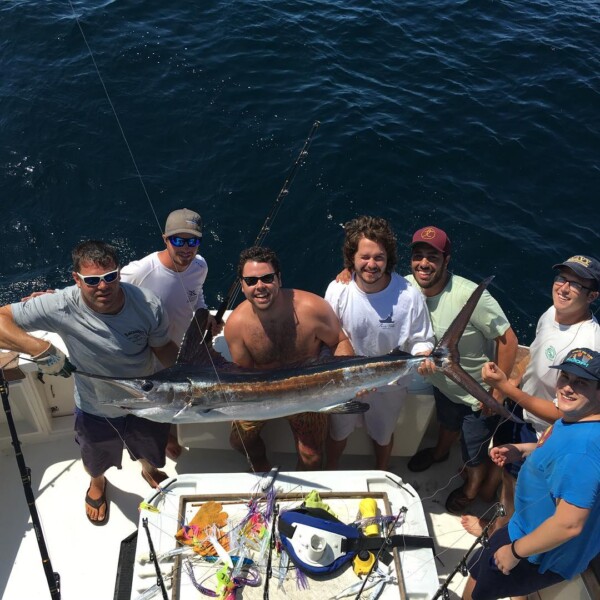 Dive Rum Cay
Dive Rum Cay - Many people will charter a yacht for the ultimate scuba diving and fishing vacation. There is no better way to explore the Out Islands of the Bahamas. Bahamas Yacht Charters offers you a nice break from your Bahamas Fishing Charter trip. The run to the fishing and diving grounds is so short, you can do both in the same day for a well rounded boating experience. Free Dive with DeeDee or Billy Gaitor for Lobster, Conch, and Grouper. These guys have been fishing and diving in Rum Cay their entire lives and know where to take you.
The surf on Rum Cay is a well kept secret (sorta). Rum Cay has a "few" breaks around the island. But you won't find anyone on the island who knows where they are so that's something you will have to discover yourself.
Oh, and don't ask Bryan!
Bahamas Air Charters
A Bahamas Charter Flight from Fort Lauderdale or South Florida to Rum is 2 1/2 hours door to door. No hassles, fully trained pilots, FAA Licensed Operator, Twin Engine Aircraft.